While giving a Schutzhund Seminar in Whitehorse, my wife, Angela, and I had the pleasure of meeting Terry and Cindy Cooke, and the Kaltersberg dogs. I was impressed and amazed at the caliber of dogs hidden in that remote part of the country!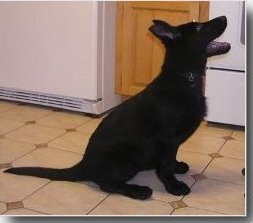 The Whitehorse Schutzhund Club themselves, were eager and hardworking and we spent many grueling hours trying to get as much done as we could during our stay.
Again, the dogs rose to the occasion, and I had a chance to watch the Kaltersberg dogs closely.
When Terry announced the confirmation of the litter from Kim and Sandy, we were excited to obtain two pups for ourselves. The breeding looked exceptional!!