Ardito is an Italian nick name for daring and bold. It is a derivative of ardire which means "to venture". His call name is Macsen which is Welsh. It means "the greatest" or "above excellence". As much care as I took to pick the right dog for search work, I also put the same care into his name. Macsen (Ardito) is living up to his name and genetics. Macsen is a great dog to work with. He has a lot of drive and is intelligent and ambitious. This of course, can provide a challenge - keeping me on my toes at all times. I love working with this dog. It doesn't matter what you teach him, he is willing to learn. And he learns quickly. Macsen has also earned a pet nickname "clown". He loves to do things to make me laugh. Once he grabbed the dryer ball from the dryer and ran off with it. He stood over his water dish and as soon as I got close - he plopped it in. Definitely a bold move!
Macsen's temperament is fantastic - while he is not a push over - he does accept me as leader. He can be a true gentleman.
Macsen is working out wonderfully in his search work. We will look at certification in the spring of 2009. He works proficiently in wilderness (people and articles), evidence (alleys and small articles) and cadaver. He is learning tracking along with water and disaster searching. The ability to handle this without stressing out the dog is certainly an accreditation to the breeding. The dog loves the variety and I am certain without it he would become bored if absent.
As Macsen was (and is) growing one of the things that really impressed me was though he had (and still has) puppy-like, adolescent behaviour, he could become "adult" on a command. Once the "search" command is given - it's like a switch. From puppy/adolescent to "I'm a working dog". He listens to commands, responds and does the work. Serious work behaviour. Once the exercise is over - then my beloved puppy is back.
The house vibrates with energy when he is in it. And as he has proven many times before - he loves an audience. This dog definitely has personality and looks!
I may be biased towards my dog, but I think this he is awesome and I love working with him. Searching requires a lot of trust and a strong bond between the dog and the handler.
Macsen is trustworthy and I couldn't be more proud of my new search partner.
Cathy Holowaychuk
www.canadiansearchdogs.com
Click on the Picture for Macsen's Pedigree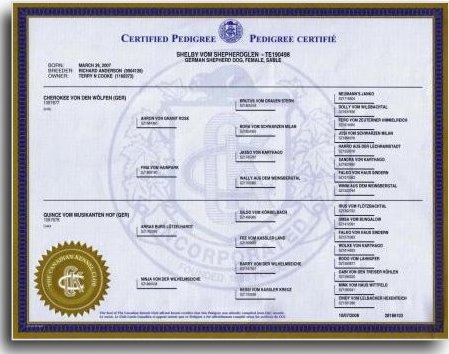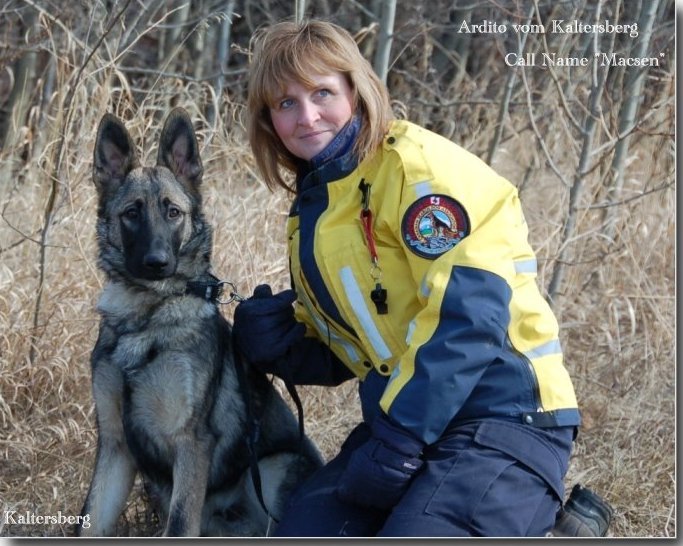 Cathy and Macsen Bottom Right Corner